Camping Information & Rules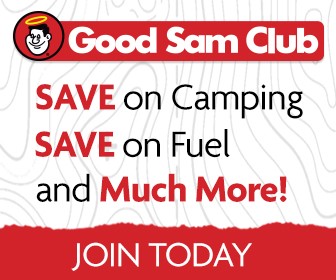 OFFICE HOURS (Memorial Day Weekend - Labor Day):

11am-7pm
OFFICE HOURS (Off Season/Water Park Closed):
Mon-Thur: 11am-6pm,
Fri: 11am-8pm,
Sat: 11am-2pm,
Sun: CLOSED
CHECK-IN TIME: 1pm-7pm
(Late check-ins, please set up and register the next business day.)
CHECK-OUT TIME:

12:30pm




(Late check-out may be available for a fee ONLY if no-one is coming on your site.)
FAMILY CAMPING ONLY

,

strictly enforced.
RESERVATIONS

highly recommended! Campers may choose a particular site; however, management reserves the right to change site if necessary.
RESERVATION MINIMUM 2 days required for summer weekends, 3 days for holidays.

VISITORS of camper pay daily admission (during summer only) & must exit park by 10pm.
ALCOHOL AND DRUGS ARE NOT ALLOWED ANYWHERE IN PARK.

We reserve the right to inspect coolers.
PETS are allowed to accompany R.V. campers only. All pets must be kept on a short leash and in designated areas. No walking around swimming lake or paddleboat areas. Keep pets out of buildings. Clean up after your pet while walking & at campsite. Limit 2 pets per camper. No overly large, aggressive breed dogs permitted. Pets must be kept quiet. Do not leave pets unattended. Must sign release form at office upon reservation or arrival.
TENTS

a

re not permitted on R.V. sites. (We do not offer any tent camping.) Sorry, no exceptions.
MATS/RUGS/CARPET PIECES are not allowed on campsite. This helps us to maintain our sites for each camper.
SCREENHOUSES/CANOPIES are allowed.
-May NOT be used for sleeping in.
VEHICLE PARKING

at campsite is available if space allows. Extra parking is available in nearby parking lots.
FIREWOOD

is self-serve. Cost is $15 a rack load or $6 a bundle. Please pay at beach office during hours of operation.
TREES/BRANCHES may not be cut or mutilated.
TRASH should be placed in dumpsters; please do not leave on picnic tables or at campsite.
SWIMMING

is included in the summertime! (Check operational dates/hours.)
FUN EVENTS such as mini-golf, paddleboats & gem mining are an extra charge, and are only open during the summer, swimming season.
CONCESSION STAND/ICE

is available in the summer , weather pending/limited hours.
PARENTS must accompany children to water park area and are responsible for their actions. Strictly enforced. Children must return to campground after water park closes. Playgrounds, corn hole, basketball, and sand volleyball remain available after water park hours.
LIFEGUARDS must be on duty for swimming. Parents, our lifeguards are here to help prevent accidents by enforcing the rules, but you are responsible to watch your own children.
QUIET HOURS:

10pm-9am. (Please alert onsite management of any major issues or emergencies.)
FIREWORKS, FIREARMS, BOWS & ARROWS are not permitted.
FISHING is newly offered for our campers in our back/boat-ride lake.
*LIMITED HOURS ONLY*:
SUMMER HOURS: Dawn-10am & 7:30pm-Dusk
(SPRING/FALL HOURS: Dawn to Dusk)
-Catch-and-release ONLY.
-Available in our back (paddleboat) lake, must bring your own gear/bait.
-Barbless or circle hooks required.
-Children MUST be accompanied by an adult.
-Please fish responsibly so we can continue to offer this!
METAL DETECTORS

a

re not permitted.
BICYCLES are permitted. Please encourage children NOT to ride near our Park Entrance. Please use caution at all times when riding, parents must accompany small children.
GOLF CARTS & MOTORIZED ATV's are not permitted. ONLY Handicap exceptions may apply, inquire in office beforehand, please.
WEATHER

In case of inclement weather, seek shelter in SHOWER HOUSE.
DISORDERLY CONDUCT/DESTRUCTION OF PROPERTY/TRESPASSING

will be prosecuted.
MANAGEMENT

has the right to refuse admission or remove persons from park.
All guests release Baylor Beach Park, Inc. its owners, employees and agents, and from any claims of injury or damage arising from their use of Baylor Beach Park, Inc. services or facilities or their presence upon the property, whether caused by their own fault, the fault of third parties, or the fault of Baylor Beach Park, Inc., its owners, employees or agents, and all guests further assume all risks arising from their use of services and/or facilities at Baylor Beach Park, Inc.
---