Water Park Rules
Baylor Beach Park is the place to be for summertime, "FUN IN THE SUN!"
To get the most enjoyment out of your visit with us, please check out
the following information.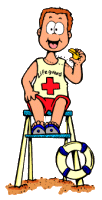 ALCOHOL AND DRUGS are not allowed anywhere in the park. We reserve the right to inspect coolers.
SMOKING is permitted  in designated areas located by the parking lots only . Please dispose of cigarettes in provided ashtray stand

.
LIFEGUARDS must be on duty for guests to swim; swimming is available during designated hours only. Please check dates/hours of operation. Parents, our lifeguards are here to help prevent accidents by enforcing the rules, but you are responsible to watch your own children. Swimmers must abide by lifeguard rule enforcement.
LIFE-JACKETS are available, for no charge, at stations around the swimming lake. We strongly encourage life-jackets for all non-swimmers and/or weak swimmers. Please return them to their station when finished so that they are available for others.
NON-SWIMMERS

,

with or without life-jackets/flotation devices, are not allowed in the "Danger Deep Water", 12 ft., roped off area, on diving dock/boards or on the blue tube slide. Parent's are also not allowed to "catch" non-swimmer's in these areas. Diving Board Area is reserved for strong swimmers only. Swimmer must use appropriate swim strokes while in roped off area.
PARENTS must accompany children to water park area! Ages 13 & under (and all non-swimmers) must be accompanied by an adult. Please, do not leave small children or non-swimmers unattended. Parents are responsible for their children's actions and whereabouts. (Campers must return to campground after water park closes.)
SWIM DIAPERS required for infants, toddlers or anyone who requires diapers on a daily basis. We encourage all guests to please remind small children to take frequent restroom breaks; restrooms are available at the Shower House.
PROPER SWIMWEAR ATTIRE is required. No thongs or G-strings. No regular(non-swimwear) shorts, cut-offs, baggy or see-thru T-shirts allowed. All swimming attire must be above the knee. Swimwear must not have rivets if using the blue tube slide. No nude or partially nude sun-bathing.
FOOD AND (NON-ALCOHOLIC) DRINKS may be brought into the park. No glass bottles allowed on beach, please.
COOLERS may be brought into park, random inspections are done to help keep our park alcohol free.
CHARCOAL FIRED TABLE TOP GRILLS are not permitted on picnic tables. (Modern grills, that do not burn/damage the table, are allowed.) Charcoal grills are located around the park for guest use.
CANOPIES are allowed but must not obstruct the lifeguard's view.
PETS are not permitted to be brought into park with swimmers or picnickers (for sanitary purposes). Pets, also, may not be left in guest's vehicles. Please leave your pets at home!
(Pets restricted to R.V. sites only.)
RE-ENTRY

,

for Swimmers/Picnickers leaving park, is available. Guests must get a wristband for same day, park re-entry. Guests without proper wristband must pay daily admission to re-enter. Any/all guests leaving and coming back for the day can receive their wristbands in the park office; wristband must be worn to be valid.
WEATHER In case of inclement weather, seek shelter in Shower House. We do call swimmers out of the water during storms, but allow them to re-enter after it has passed, when all is safe. We do not, typically, close for this reason unless in the unlikelihood that we have no guests, guests all leave or if it's almost closing time.
RAIN CHECKS/REFUNDS will not be issued.
P.A. ANNOUNCEMENTS are strictly for Park & Emergency use only. No phone in P.A. announcements or pagings made.
PROFANITIES AND OBSCENITIES will not be tolerated. Anything displaying either of these, i.e. clothing/tattoos, are not permitted. Reason for removal from park. Please report any issues to park management.
MUSIC may not be loud or contain obscenities.
FIREWORKS, FIREARMS, BOWS & ARROWS are not permitted.
METAL DETECTORS are not permitted.

LOST AND FOUND Baylor Beach Park is not responsible for any lost, stolen or damaged personal property. Please, do not wear valuable jewelry, glasses, etc. when swimming. Please, do not take valuables, such as cell phones, keys and cameras, onto water boat rides. We have a "Lost and Found" located by the park office for anything that may have been found.
DISORDERLY CONDUCT/DESTRUCTION OF PROPERTY/TRESPASSING violators will be prosecuted.
MANAGEMENT of Baylor Beach Park are available in park office during park operation hours; please report any incidents that need attention. Management reserves the right to alter the beach & fun event hours depending on weather conditions and crowd size; management also has the right to refuse admission or remove persons from park.

All guests release Baylor Beach Park, Inc. its owners, employees and agents, and from any claims of injury or damage arising from their use of Baylor Beach Park, Inc. services or facilities or their presence upon the property, whether caused by their own fault, the fault of third parties, or the fault of Baylor Beach Park, Inc., its owners, employees or agents, and all guests further assume all risks arising from their use of services and/or facilities at Baylor Beach Park, Inc.
Thank you for helping us to keep our park a GREAT park for families!