Guestbook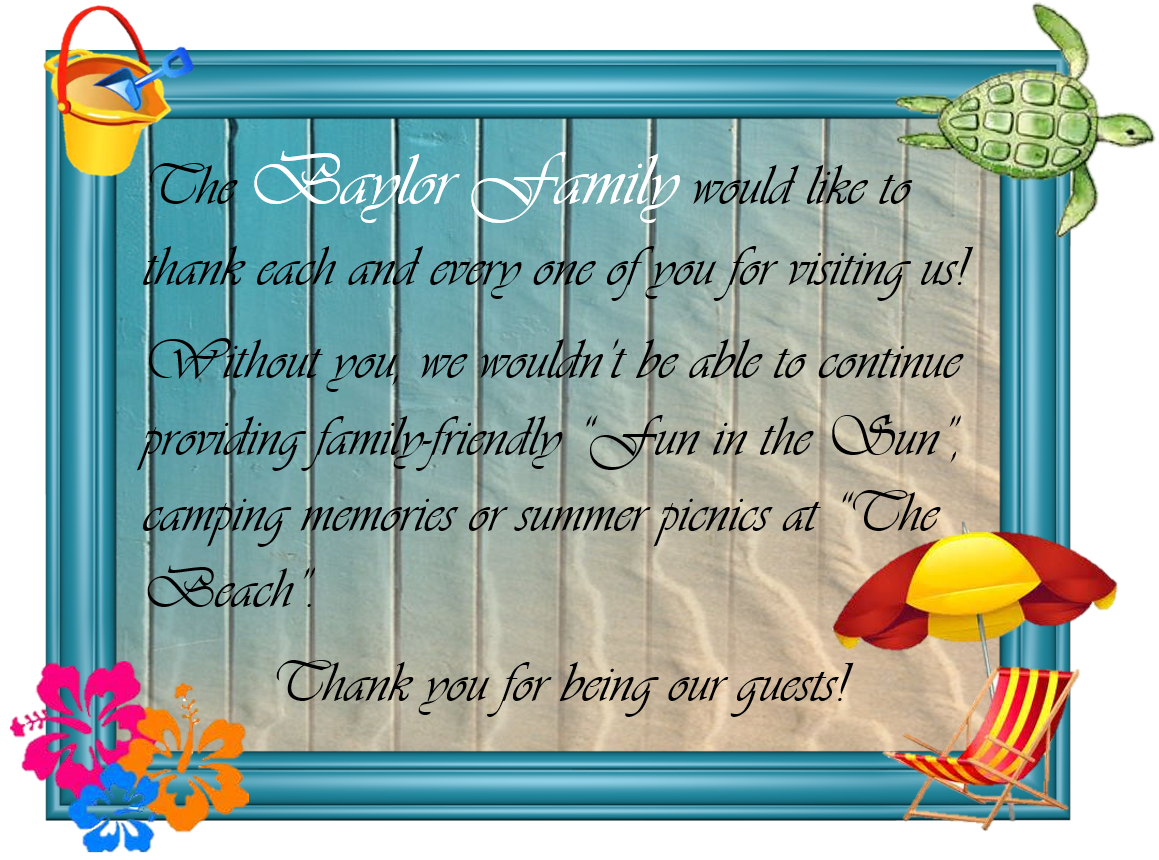 9 entries.
My familys loves coming to baylor beach every summer !! Very clean, good food,a great place to take your family for the day !! It's a little on the pricey side! But its worth it !!
I asked Facebook friends a place to take kids that won't break my bank to swim, picnic and have fun. This was suggested so many times. It took one visit June 2018 and we were hooked! Came out every week. I can't wait to make more family memories! Great place for kids but we adults had an awesome time too!
Baylor Beach is awesome, we also camp there and love it.
Nice Park. Very quiet and clean with NO golf Carts!! Small enough to ride bikes to restrooms too. Recommended!
I can not say enough good things about the staff at Baylor Beach. We just completed a square dance camp out over the Memorial Day weekend. It being my first time being the wagon master. Beth and her whole crew made the experience very easy!! All of the staff was great to work with and all of our campers had a great time. The kids enjoyed the park to it full extent and the adults enjoyed there time as well. 5 stars to everyone!!
Baylor Beach has been a summer main stay in our family since my mother enjoyed the park as a child. Now 2 third generation Baylor enthusiasts have gained valuable career experience as life guards for the Baylor family. This park defines our community and we're Blessed to have it.
We have been going to Baylor Beach every 4th of July weekend for the last 4-5 years. Best camping trip every year!!! We LOVE everything about it, so much family fun, fantastic employees and just all around GREATNESS!!
Such a fun place for my family and I to spend our summers. You especially gotta love that blue tube slide...woohoo!
Baylor Beach is AWESOME! 🙂